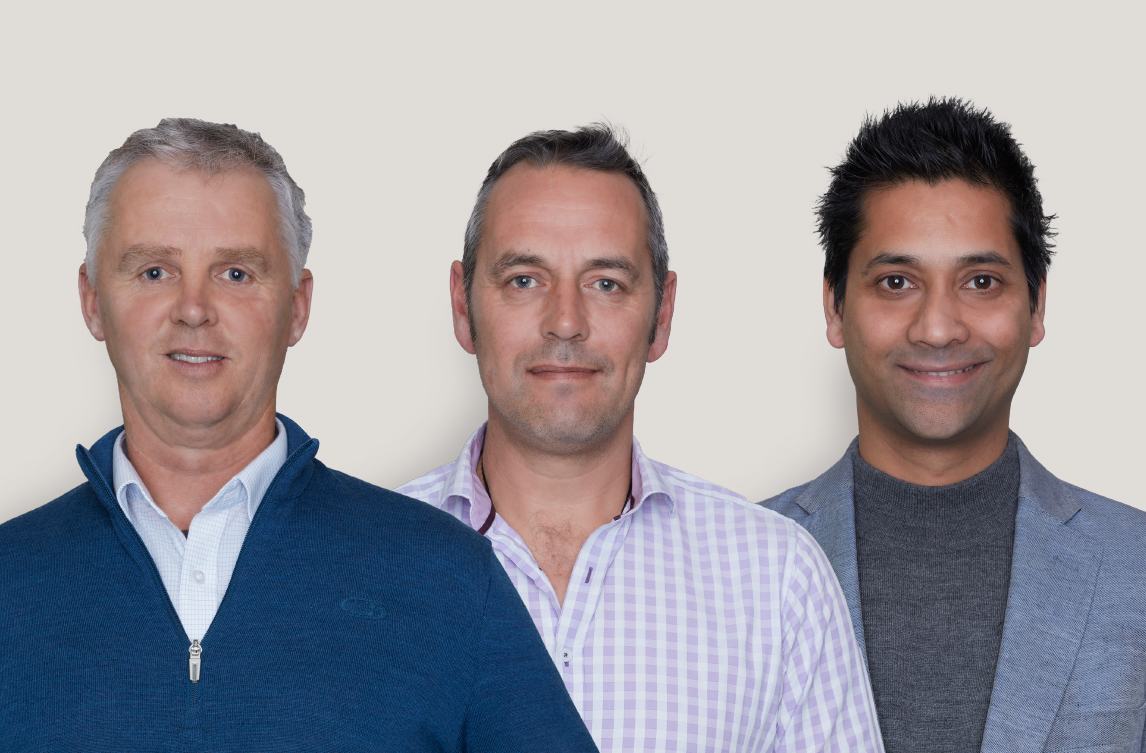 Change for the future in Christchurch
Our Christchurch-based practice has some exciting leadership changes underway for their long-established team. William Fulton continues to lead the business, with Stewart Ross still consulting to lend us his considerable experience. However, two new Directors have taken a stake in the business alongside William, to move the business into the next phase of its evolution.
Darren Shadbolt and Agneesh Brahmbhatt are also Directors of TEAM Architects Palmerston North, who have worked collaboratively with the Christchurch team on many projects in recent years. It's a natural progression for them, bringing the two studios closer together so that they can continue to collaborate on outstanding work for TEAM's private and public sector clients.
For TEAM Architects Christchurch, it's a natural progression from the architectural practice established by Stewart Ross in 1976. Stewart Ross TEAM Architects became part of the TEAM Architects group in 1999; And in 2008 Fulton Ross TEAM Architects was formed when William joined as a Director.
William says "The opportunity to team up with Darren and Agneesh is the next step in the development of this established and well recognised Christchurch architectural practice. It strengthens the bonds already developed within the Team Architects network, and ensures the bright future of TEAM Architects in Canterbury.
"With shared values and vision the new Directors of TEAM Architects Christchurch intend to build on the legacy stretching back to 1976, and we will continue to deliver high quality outcomes for our Clients."
Stewart is also excited about the changes. "Looking back over the last 48 years of many and varied design projects, I am delighted that the practice is to be invigorated by the input of energy and experience of Darren, Agneesh and the Palmerston North team along with William's ongoing guidance. While still involved in a consulting role I am pleased that the practice has a healthy future and will continue to serve our local and national clients with the same thoughtful care and commitment as before."
For Agneesh and Darren, their involvement with TEAM Architects Christchurch is a natural progression, having already built strong ties through project collaborations.
As the head of the NZ Defence portfolio at TEAM Architects, Agneesh has collaborated closely with William to successfully deliver a critical infrastructure project for the Burnham Military basecamp. Presently, William and Agneesh are collaborating on several heritage conservation initiatives in the North Island.
Agneesh says he has "an inherent inclination towards the various forms of arts and culture that modern day Christchurch provides; I see it as a world class 'City for Everyone'."
Darren believes the evolution of Team Architects Christchurch is founded on the desire to deliver high quality professional architecture services across a wide range of sectors. These aims are shared across the TEAM Architects network and underpin the ethos of the organisation.
"This change builds upon the Heritage, Education, Performing Arts and Commercial expertise of TEAM Architects Christchurch," says Darren, "with additional specialist knowledge and experience across the Health Care, Critical Services, Community, Iwi and Infrastructure sectors. Strengthening our collaboration leverages greater staff resources, access to project experience and technical knowledge."
William, Darren and Agneesh are equal partners in TEAM Architects Christchurch and are excited for the coming years. With this new injection of experience and knowledge, our Christchurch team — and the wider TEAM Architects network — are all set to deliver exceptional built environments in Canterbury and beyond, partnering with existing and new clients to meet the challenges they present and realise their architectural projects."